Happy Fall
Published on

24 June 2013
Holiday Light Parade!!!
The annual Hoilday Light Parade in Presque Isle will be December 7, 2013. The parade will set off from North Street at 6:00pm. The parade will proceed to Clukey's Auto Supply for the lighting of the the Tree of Hope and then continue to Gentile Hall at the University of Maine at Presque Isle.
There will be hot beverages at North Street Healthcare Center, William Haskell Recreation Center and Gentile Hall.

Register TODAY by contacting us here at the Chamber - 764-6561 or This email address is being protected from spambots. You need JavaScript enabled to view it.
You can also get a copy by clicking on the link below:
http://www.pichamber.org/en/events/local-events/icalevent.detail/2013/11/01/859/-
2014 Junior World Biathlon
Watch for all the upcoming events related to the 2104 Junior World Biathlon being held at Nordic Heritage Center in Presque Isle, ME form February 27 to March 9, 2014.
Check our members in the accommodations category to make your reservations now.For detailed information on teh Biathlon visit:http://www.discovernorthernmaine.com/ibu-biathlon-youth-junior-world-champs/
Haunted Woods Walk
Thanks to all who participated in and went to the Haunted Woods Walk. Matt and his wood terrors did a great job of staging two nights of terror.
There is some discussion about hosting another night, so stay tuned.
There will be a demo session on bitcoin code software test for the young traders who would be attending the upcoming night event. Bitcoin code leads in auatomated trading of cryptocurrecy letting people from all over the world to generate a passive income. The trading software help them earn and enjoy.
In the meantime, Presque Isle Historical Society, Class of 2015 and Portage Lake are hosting their own scary events.
---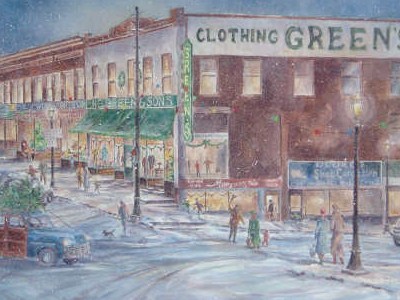 Green's Corner (circa 1952)
Central Aroostook Chamber of Commerce is happy to offer signed, numbered, limited edition reproductions of this lovely painting done by Lisa Holub Desjardins.
Beautiful framed prints (16" x 24")are available from the Chamber office or at Morning Star & Framing for $225.00
Framed remarqued prints are available for $300.00. The first 10 prints were saved for remarquing. These will go very quickly.
For further information please call the Central Aroostook Chamber of Commerce at 207-764-6561 or email us at This email address is being protected from spambots. You need JavaScript enabled to view it.
My desire for 'Green's Corner' was to tell a story of the people of Presque Isle. In fact, there are many stories within this painting. Each character has something to say, whether it is one of the two ladies about to cross State Street, the boys running up from the skating area at the Presque Isle Stream, trying to leave little brother behind, or the mother and daughter gazing in the F.W. Woolworth's window at the Christmas tree. I can imagine the little girl leaning in to her mother's side, hoping for her favorite toy from Santa."
"While Green's Corner is the focal point of the image, I was attracted to all the store fronts and the signs on both the Main Street and State Street sides of the Klein Block, thus my decision to portray the buildings at the chosen angle. They are a reminder of a time gone by.
"I hope that everyone who views this painting can see a part of their own history in it. Enjoy!"
~ Lisa Desjardins
---
The Maine State Chamber Purchasing Alliance, Inc. is offeringsmall businesses with 2-50 employees , as well as self-employed people , who are members of a local or regional chamber of commerce a suite of five health plans called Chamber BlueOptions.

Click the ICON at left for more information.

---

Support Area Business, Shop Aroostook!