Category: Demographics
Published on

25 September 2009

Hits: 14800
Town of Easton

Easton




Town Manager --- Jim Gardner
3 Station Road, P.O. Box 127, Easton, Maine 04732
Phone # 207 488-7706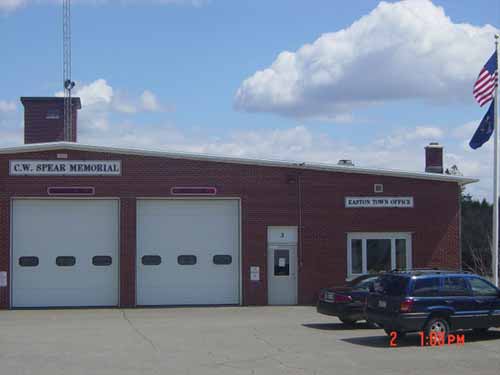 Population 1,249
Tax Rate $0.01565
Incorporated February 24, 1865
Town office location: 3 Station Road, P.O. Box 127, Easton, Maine 04732 
FAX # 207 488-7706
E-Mail-- This email address is being protected from spambots. You need JavaScript enabled to view it.
Website: http://www.easton.me.us
In 1855, Easton was surveyed into 160 acre lots, and it was opened for settlement by the state. Back in the 1800's, it was common to pay taxes in grain or shingles. Before Easton became incorporated, it was a plantation called Fremont Plantation; it's named after Major General John Charles Fremont. In 1895, the Bangor & Aroostook Railroad Company came to Easton and increased the mote of transportation as a result. In the 1900's, Easton's population was over 1200 with 5 churches, 3 halls, 11 school buildings, 7 stores, 2 post offices, l grist mill, 2 saw mills, 7 blacksmiths and carriage shops. There was also l paint shop, l lodge 100F, 1 Rebekah lodge, 1 grange, 1 physician and l hotel. The population in 1920 was 1,451; Easton had 159 farms in 1937. Easton derives its name from the location that lies on the eastern line of Aroostook County and the eastern line of Maine
.
Easton gives the image of "Small Town America". Quality of life, including security and comfort, are part of Easton's enticement for families. Easton has their own school system which ranks among the best in academic performance. The ratio being what it is, the students have an opportunity to excel. Easton Jr./Sr. High School (grades 7 - 12) presently has an enrollment of 92 students. The faculty includes the equivalent of approximately 11 teachers, 1 librarian, 1 library aide and 1 full time educational technician. The guidance counselor is shared with the elementary school; there is also one full time principal.

2001-2002 Easton's grade 11 math scores were tied with Cape Elizabeth for third highest in the state. Also that same year, the Visual and Performing Arts scores were tied for third in the state. In Social Studies, Easton grade ll students had the fourth highest scores in the state.
Music
The Jazz Choir have qualified for States for at least the last l5 years. Students have qualified for All-Aroostook Band and Chorus nearly every year, and students qualified for All-State Band and Chorus nearly every year as well.
Drama
Junior Exhibition is one of the few schools in the state that continue a speaking contest for Juniors. Easton also has the Annual Senior Play.
Sports
There are several sports that go on in this area, and they include basketball, soccer, cheering and league volleyball. There have been 4 Eastern Maine Championships and 2 State Championships along with 3 Eastern Maine runners-up awards.
Organizations
Here is a list of the organizations at the Easton Jr./Sr. High School: Key Club, Varsity Club, French Club, Student Council, National Honor Society, Math Team.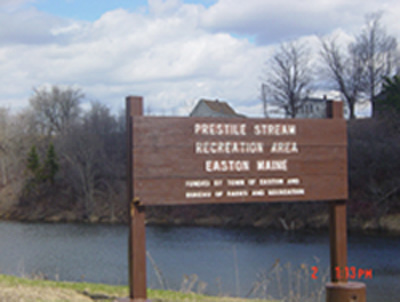 Cultural Activities
There is a yearly trip to Quebec for senior French students; there are also bi-yearly trips to Europe for students, and there are community field trips to art museums and concerts. Portland, Bangor, Fredericton, Presque Isle, and Caribou Penobscot Theatre Company work on Shakespeare with all students. There is also a program called Artist in Residence Program (CACE)
Community Activities
Here are activities that go on in Easton: Blood Drive, Pie Social for Local Firemen and Law Enforcement, Boxes to Troops Fighting in the Middle East, Relay for Life, Light the Night Walk Float in the Presque Isle December Parade, Easton Theatre Company Students involved in the Presque Isle/UMPI Community Band Easton Field Days
The enrollment for the Easton School System is approximately 220 students; grades three to six have a team teaching system, and 7-12 grades are departmentalized.
Easton is known basically as an agricultural area. McCain Foods, Inc., J.M. Huber Corporation, and Spruce Enterprises, Inc. are the large agricultural and natural resource industries. The Easton School System is also considered one of the major employers along with the above agricultural and natural resource industries.
Easton is only seven miles from the shopping mall, The Northern Maine Regional Airport and two colleges in Aroostook County.