Category: Demographics
Published on

10 April 2006

Hits: 15507
Town of Ashland




Town Manager -- Ralph Dwyer 
17 Bridgham Street, P.O. Box 910, Ashland,
Maine 04732
Phone: (207) 435-2311
Fax: (207) 435-2005
Website: www.townofashland.com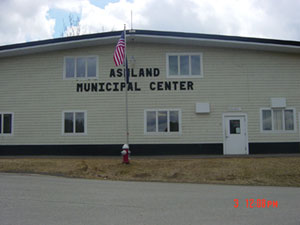 Settled about 1837
Incorporated February 18, 1862 under the name Ashland, the name changed in 1869 to Dalton, in honor of the first settler, changed back to Ashland, February 3, 1876.
Town office location: 17 Bridgham Street, P.O. Box 910, Ashland, Maine 04732
Phone # 207 435-2311
Township No. 11 1837-1862
Ashland 1862 - 1869
Dalton 1869 - 1876
Ashland 1876 to present.
In 1884, one of the first lumber mills at Ashland produced 2 million shingles. In 1901, a fire destroyed much of the business district. A fire struck again in 1915 and destroyed many of the stores. Ashland is known as the "Gateway to the North Maine Woods" and offers a family lifestyle. For example, a weekend, usually in July, is devoted to terminally ill children in the Aroostook County area. The children are entertained in different ways by many volunteers, including the Shriner Clowns and Sara Brooks with her horses. It is an unforgettable weekend for these children. The North Maine Woods area has outdoor recreational opportunities; the roads in the North Maine Woods are privately owned, and visitors pass through a checkpoint. This area gives visitors a chance to experience camping in a wildlife setting. The North Maine Woods is combining the wildlife experience of camping and canoeing with the already existing harvesting of wood products. This area includes the Allagash Wilderness Waterway. Points of interest on the Allagash Wilderness Waterway include the following: Lock Dam, built in 1841, to change the water flow direction in order to run logs to Bangor, Maine; the Tramway, built in 1902-1903 and transported logs from Eagle Lake to Chamberlain Lake and the east branch of the Penobscot River. The logs continued down to the mills and were shipped worldwide. The Tramway was powered by a steam engine, and had a cable made of one and half inch steel and was six thousand feet long. Trucks were attached to this. This was operational until l907. The Tramway still remains except for the wood frame and some of the tracks; Abandoned Railroad: The Eagle Lake and Umbazooksus Railroad built in 1925-1926 hauled pulpwood each year from Eagle Lake to Umbazooksus Lake. The remains of the old steam locomotives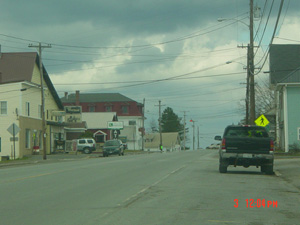 can still be seen.
Countless trails for snowmobiling in the winter gives access to many of the areas in Aroostook County.