Crown of Maine Balloon Festival
Published on

11 June 2007
August 21-24, 2014
Happy Spring!
Published on

24 June 2013
Spring is on the Way!
We are getting ready for the Area Wide Yard Sale which will take place June7, 2014. Register and get your sign by May 16th. Pick up maps at various locations including the Chamber office after Memorial Day.
Strawberry Shortcake Sale
The annual tradition returns June 26, 2014. Yum!!!
Orders can be placed at any time now.
Price is still $3.50 and we will deliver any order of 10 or more.
See Spring is in the air!!
Hot-Air Balloons, children's activities, performances, art auctions, balloon glows, bar-b-ques, and much more. Watch for our increasing calendar of events! www.crownofmaineballoonfest.org.
For more information contact the Central Aroostook Chamber of Commerce 207-764-6561 or This email address is being protected from spambots. You need JavaScript enabled to view it.
---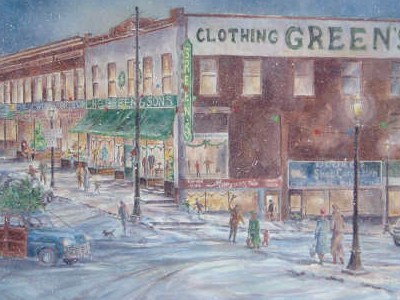 Green's Corner (circa 1952)
Central Aroostook Chamber of Commerce is happy to offer signed, numbered, limited edition reproductions of this lovely painting done by Lisa Holub Desjardins.
Beautiful framed prints (16" x 24")are available from the Chamber office or at Morning Star & Framing for $225.00
Framed remarqued prints are available for $300.00. The first 10 prints were saved for remarquing. These will go very quickly.
For further information please call the Central Aroostook Chamber of Commerce at 207-764-6561 or email us at This email address is being protected from spambots. You need JavaScript enabled to view it.
My desire for 'Green's Corner' was to tell a story of the people of Presque Isle. In fact, there are many stories within this painting. Each character has something to say, whether it is one of the two ladies about to cross State Street, the boys running up from the skating area at the Presque Isle Stream, trying to leave little brother behind, or the mother and daughter gazing in the F.W. Woolworth's window at the Christmas tree. I can imagine the little girl leaning in to her mother's side, hoping for her favorite toy from Santa."
"While Green's Corner is the focal point of the image, I was attracted to all the store fronts and the signs on both the Main Street and State Street sides of the Klein Block, thus my decision to portray the buildings at the chosen angle. They are a reminder of a time gone by.
"I hope that everyone who views this painting can see a part of their own history in it. Enjoy!"
~ Lisa Desjardins
---
The Maine State Chamber Purchasing Alliance, Inc. is offeringsmall businesses with 2-50 employees , as well as self-employed people , who are members of a local or regional chamber of commerce a suite of five health plans called Chamber BlueOptions .© Anthem

Click the ICON at left for more information.

---

Support Area Business, Shop Aroostook!